Working Paper
Emmanuelle Reungoat
University of Montpellier
,
Cecile Jouhanneau
Université Paul-Valéry Montpellier
,
François Buton
Centre National de la Recherche Scientifique & Ecole Normale Supérieure de Lyon - France
Abstract
Social movements literature has repeatedly stressed the importance of ingrained dispositions to activism. Scholarship on political participation has pinpointed how socio-economic inequalities largely determine the propensity to get involved in politics. Therefore certain social groups – with little cultural and political capital, and no background in activism – are generally expected to remain outside of political life. Yet recent movements like the Yellow Vests in 2018-20 France have thrust "ordinary citizens" into the limelight. To what extent did their unprecedented commitment contribute to giving the movement some of its unique features? Did this experience of protest affect their relationship with politics? Based on ethnographic biographical interviews with first-time protestors, we argue that becoming Yellow Vests has fostered a two-pronged politicization process: first, through their increased defiance towards specialized politics; second, through their criticism of social order, which brings the social question back in after years of interpreting conflict as "cultural".
Content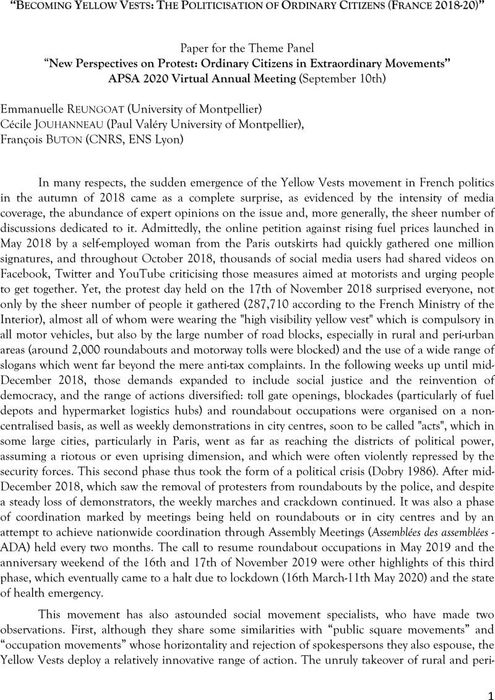 cloud_download
pdf : 0.32 MB